Miss Enid here. Your Ringmaster for today's parade of individual wheelies. Most delighted to have your companionship on this auspicious day. What's that? You were wondering where Eric is? I can't be sure but I believe he may be tied up somewhere. Punishment for his lack of manners in my Family Show dears. You did view the family entries yesterday and remember to vote for them didn't you? Both ballots are on the sidebar. Thanking you, I'm indebted and most humbly grateful.



Now without further ado. My little entertainment show before the contestants parade. ERIC. OOH ERIC! COOOOOOOME! Take that! Craaaack. And that! Craaaack!




What's that onlookers? Me? Miss Enid sniggerering? No dears. You're quite mistaken. One would never do anything so common.
AUTUMN
Here's little Autumn with her delightful pumpkin wheels. She's a youngster. Only 10 years old and a replica of a very prim and proper old Steiff from Germany. Her ambition is to be the very best gardener and cook. (Eric was overheard to murmur through his gagged and muffled mouth ....she'd make a verrrry tasty Pumpkin Pie)
ALBERT - ERIC
Picture by Eric
Here's my companion Albert who lives with me in Square Dog House. He's not entering the competition- just wanted me to show you him posing in a typical British scene.
BERTIE - SCRUFFY
This is dearest Myrna and Gilbert's son. Bertie. Goodness gracious. What is he doing up the tree? And bad boy Scruffy. Taunting and teasing him. No wonder Berties ambition is to annoy the Holy terrors. Mission accomplished I would say bertie. (Eric...faintly heard barking ....Doh. Bet that Bertie's looking up the tree for more wood for his sawdust stuffin ..hehee!!)
BAILEY - SIR WOODSTOCK AND BLUE
One's heart goes out to poor Bailey.Imagine! Abandoned and surviving on the streets before being given a wheelie good home by Miss Blue. Bailey barked she's most troubled being of mongrel descent and intends to improve herself by education to square standards. By reading my Eat A Cat books.
CAMEL ON WHEELS
This photo was sent by Lacie to Eric in the fast mail. Lacie complained the camel had sent her a threatening letter "Let the Camel Win or Else!" I truly can't believe any sort of wheeled creature would use such bad grammer. Or write with purple ink. Can you?
CYRIL - AGATHA AND ARCHIE
Pedigree wheelie Cyril hails from my neck of the woods. Olde England With a fine Lines Pedigree. It was a most unfortunate day when Eric wired him to transmit our wheeled movements. But a joyful one for us wheelies when Cyril used his puncture repair kit to cross his wires. On reflection. Not such a good day for Cyril.
Picture by Eric
EDWINA
Darling Edwin from my extended family over the ocean. Edwina's at the front. Her twin sister Sweet Pea Clementine lives here with me. The twins rolled over from Germany into America at least 60 years ago. Rescued from the E bay kennels and transported to their furever homes. Edwina is wonderful example of what a little self maintenace can do. One of her ambitions is to maintain her fine and shapely derriere. Eric tells me the twins once won Rears of the Years. How delightful!
HECTOR - MANGO
Here's Hector rolling in. Surely a hybrid? Hector tells me he's part Airedale,part Beastie. (Eric mumbles... that'll be the large back end portion then) Hector claims his ambition is to encourage wheelies to get into home improvements. I do detect he's building a house in the tree to avoid his dog Mango's suds. I must advise him to build it higher.
Picture by Eric
FRANCESCA - MAGGIE AND MITCH
Francesca's a resorceful wheelie with a fine Lines Brothers birthmark. Some weeks ago Francesca looked a little different. She took it upon herself to vist her local spa for a make over. Doesn't she look divine? Self improvements are always to be applauded. (Eric screeches through his gag bandana... downright devious disguising herself.. what's so wrong with being a foxie wheelie ? Got my pies fixed on you Francesca
)
GILBERT - THE THREE TERRIERS
Gilbert is the perfect example of an antique wheeled Steiff. He's wheelie wheelie old. A true square old boy of 90+ years. A bit bemused with a fancy for frocksies. See his perfect square shadow? Eric told me Gilbert's won several Jo Stains awards. Isn't that nice? Sadly, he's not too well at present having contracted Scruffy's nasty infection.
Picture by Eric
JOSEPHINE- BUTCHY AND ANGEL SNICKERS
Josephine descended from the Joseph Pittman factory in the 1920's. Look at her charming expression, exactly like Butchy's sweet Angel Snickers. Josephine perfoms a wonderful service protecting the Koi Carp in Mutton Hollow pond from the Barkalot Boyz Heron Cam.
MYRNA - ASTA
Dear oh dear. My good friend Miss Myrna seems intent on surveying all exits should her apartment block catch fire. As if! What are the chances of that? Never the less. One can't be too careful nowadays. Do get down from there Myrna dear. It's most dangerous teetering and tottering up there on the edge of the ledge.

No no no! Myrna dearest. Off there! This instant! That's a children's slide. Not the Fire exit. Oh me oh my...poor Miss Myrna seems rather fixated
. . .
MISHA - OTIS
Goodness gracious me. Take at look at what Otis the cat dragged in.
MISS MERRY ANN BRIGHT
An enthusiastic contestant most eager to wheel out of her packing after her long trip from Germany. A rare Rectangular Dog on wheels. Her main ambition after only one day is to avoid the Rockie Scotties terrier teeth. Distressing indeed. Miss Merry Anne. Don't hesitate to us wheelies for further advice on dealing with those tiresome dogs with teeth.
CLIVE JUNIOR
Oh my! Who's this new born rolling in? He reminds me of NSLM's Mango Minster Grand Champion Clive. And he's called Clive Junior. Quite makes my old heart sing knowing our wheelie noble heritage is being continued. And what a boy! One minute he's studying stocks and shares on Wheelie Street, the next he's sliding down the banisters!!!
ROMY - ASTA
Romy's a dear little Steiff and has a penchant for playing the piano. She plays Bach mostly and manages admirably depite her damaged front wheel. She is of course Myrna's daughter and confusingly,a good deal older than her Mother. Life can be a smidgen muddled when you're a wheelie.
ROXY - BUTCHY AND ANGEL SNICKERS
Roxy is a Chiltern from Olde England who emigrated to Iowa in the 40's. Roxy can often be found fulfilling her gardening ambitions tending her surroundings by the pond.Her temperament is one of tranquility depite her playful pose. Much to Eric's disappointment.


Picture by Eric
SEYMOUR - JACKSON
Dashing young Seymour seems to have been set up by his owner Jackson with his photograph. No wheelie could possibly afford to gamble, let alone or drink alcoholic beverages on the pitiful pension we receive.
SCARFACE - LACIE
Scarface belongs to Lacie. Eric tells me Scarface has undergone plastic surgerey @ Dr. Frank. N. Steins. A fine surgeon judging by the result. Scarface is of course a P
ersonal Fitness Walker for Lacie. Constantly assisting her in achieving the same fine deportment as Edwina. (Eric, gags on his gag and cries out OOOOO Hahaaaa!!! Personal Fitness Walker Wheelie!!! Go Lacie! Move it! Gotta trim those big butts of yours . . )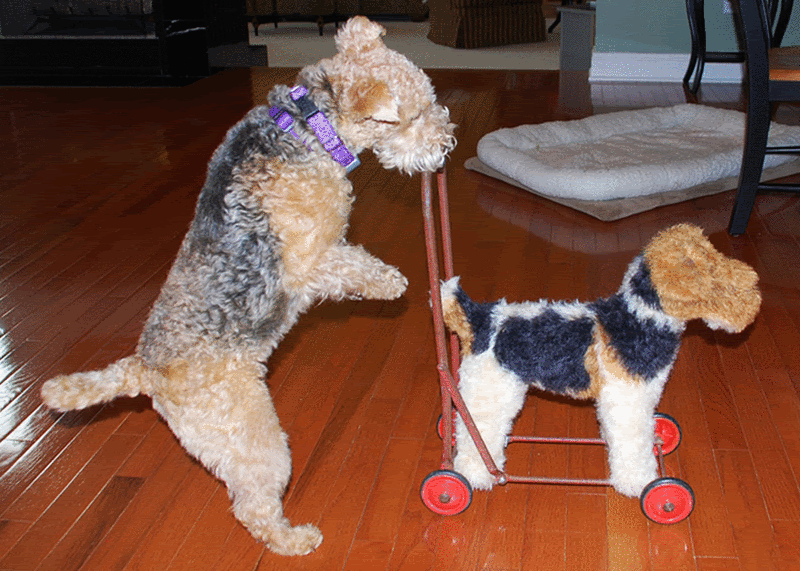 Picture by Eric



WINSTON - JAKE AND FERGIE







Our Foster boy Winston is to be admired for his fortitude in the face of adversity after his wheels were stolen. Witness how he's adapted and overcome his disabilties of no wheels, or furs and button eyes in the most creative of ways!

Coming down the mountain, here he comes!





Winston was rescued after being left in the England Ebay kennels and immediately applied for a green card to live in Colorado. Winston's dearest ambition is to assure the continuation of wheelies across future generations by promoting an appreciation of the values of Simplicity, Honor, Genuineness, Respect and Reality that have been a part of our history and our current wheeld lives. Wonderful oration Winston. A fine moral code for us wheeled Antiques.





Which brings us neatly to the end of my parade. Please dearest audience. Cast your vote on the side bar ballot from your favourite dog from the still photo's. (Silly me. I missed out my dearest Foster Winston AND Romy on the voting poll. I can't alter the original poll so they have a special poll of their own! Deepest apologies to them)

(Eric is heard shouting ...Doh! Wheelie silly of old Miss Enid going C Nile. The poll is for the readers vote, course I am the Supreme Judge for my final winners....)

(Eric is heard barking from the corner as he struggles to release himself from the restraining paws cuffs ....what did I tell ya bout those wheelies? Believe me now? Everybloggie please come back and check I'm ok once this wheelie silly contest is over. . . winners parading Wednesday 7th...after which ...hopefully...my normal non wheeled service will be resumed)