Yoohooo everybloggie! Apologies for the delay in the sheduling of Scruffs Dog Show. Jackson's doing well due to the Power of the Paw. Give yourselves a pat on the back for such wagging good work! Apologies too for our absence in visiting. I've been off searching for a stars and stripes carpet for our VIP visitors. Remember to check out

Lacie's

bloggie to see what we are up to!
Updated Scruffs Dog Show schedule. Families will be parading today 2nd April. Single entries on Saturday 3rd April. Winners Enclosure on Wednesday 7th April.
Okey Dokey. Nearly time to get this pesky show rolling. Dodn't think I'm going to be nice to 'em will ya? Hate them scheming wheeler wheelies. Won't let me turn them into a pile of sawdust. They take over your blog. Then. The affections of your leggeds. Next.The Dog World. Watch 'em I say. Remember. Keep your peepers peeled. C'mon wheelies. Let's get this over.
Take for ever to get their wheels a wobbling. You've time for a scritch scratch of your lug 'oles. A nod off for fourty winks. Or better. Destuff a wheelie while you wait. You know how slow they go. But first. As your Master of Ceremonies.
I've been cracking the whip. Devising wheelie exciting entertainment for you with my pesky wheelie family. Move it wheelies! Let's get this Circus rolling .......
C'mon wheelies! Balance! Brake them wheels Miss Enid!!! Stay still peskies while I'm cracking the whip!
Where's you wheel wobbled off to Miss Enid? No time for a re-tread I said! No wibbling! Time to get the pesky contestants parading.
AGATHA AND ARCHIE
Cripes. Agatha and Archie sniffing around with Cyril Wheels. Wheelie suspicious. He's my spy remember. Planted him there when Mom smuggled him into A Merry Car in her suitcase. My pals look a little WIRED. EEEK. Think they let old Cyril into the bomb shelter....to defuse a real BOMB? Back everybloggie!! Cyril got himself some sort of degree from the Lines Factory back in the fifties but none for dismantling bombs!!!.CRICKEEEE. Seems it's not only Agatha and Archie who are wired. . ..
ASTA
Roll up. Roll up. See the famous Kreit/Kroon family here. Mostly Steiffs mostly from Germany. With two kids as old as their parents. Huh? How's that happen? Verrrry sloooooowly. They move in famous right wheel circles. Big posers. I spied 'em on posters all over the Big Apple.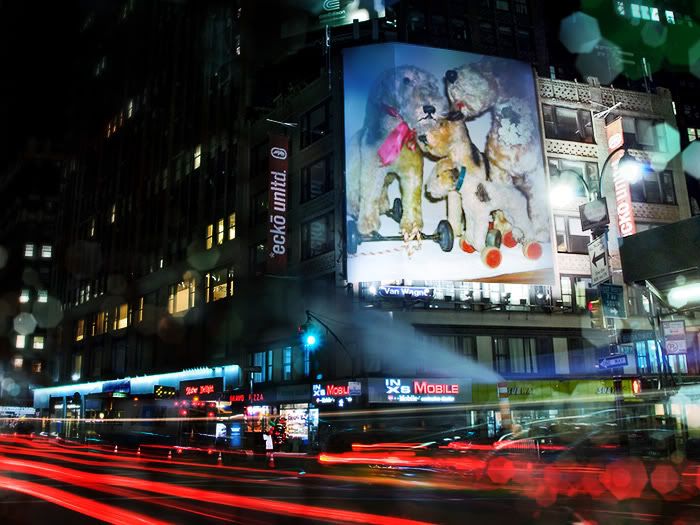 BLUE

Judy and Bailey. So. So. Wrong. Bailey getting his temperature taken...in his MOUTH? Needs to shove that thermometer where the sun don't shine Nurse Judy. . .
BARKALOT BOYZ

I detected these two are clones of Boyz Jake and Just Harry. Created by Airedale Heaven. Hmp. Looks more likely raising Hell. With Murder in Mind. Gulp. Anybloggie seen the Boyz?
JAKE AND FERGIE
Look what's wheeled in. Or in Winston's case. Not. Teeheee!! The International gang from England, Ireland and Germany who wheel down with Jake and Fergie. Live a high old life supping on Whisky and Tea. And that little one. At the front. He's had one too many from the Jamesons bottle. Look at him. Certainly LEGLESSSS. OOOOOO HAAAAAHhhhAA!!!!!!!
JACKSON
Fair warms my squares to see my hero Jackson . A wiry after my own heart. Screaming his square head off as he's forced to stand with his wheelie. He'll get his nashers on him once the flashy beast's disappeared. Course Jackson is Champion stuffie unstuffer extra ordinaire.What do you reckon.10 seconds? From fluff? To sawdust?!!! Way to go Jackson!
BUTCHY AND ANGEL SNICKERS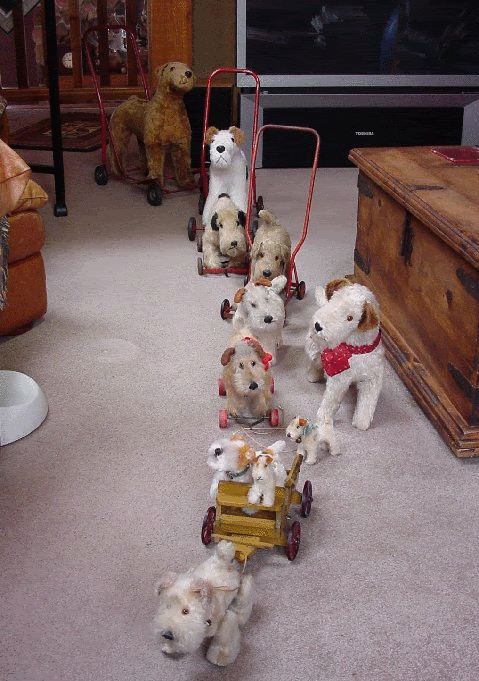 Cast your pies on this collection. Putting on a parade.Got a few centuries under their collective wheels. No wonder they're lunging and a-lurching along. Bet Butchy gets good use out of his wheelie Puncture Repair Kit on this lot huh?
MANGO
Wheelie gotta admire Hector. I mean. Would you get that close to Mango's Sud's Maker??? Uh oh....get those wheels a rolling Hector . . . .there he blows.....
MAGGIE AND MITCH
Francesca and Autumn taking a spin on their motor bike. Vrrrrm. Looks wheelie dangerous. And fancy! Wearing fancy pants hats! Not helmets! Doh. Goes to show. Not only these two. Each and every wheelie. Got nuffin' but stuffin' between their ears. And years. Oooooo hahahahaha!!!!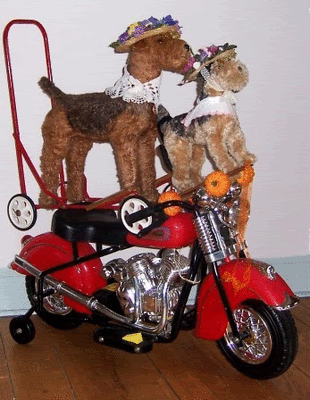 SCRUFFY LACIE STAN
Look at these pesky pensioners GO!! Was it Scruffy? Or Lacie? Who led them to slippin' and a sliding down the garden path on their ancient sledge? Reckon Scruffy must of greased those runners with something or other. What would make them go so fast? Ahh. Got it. CeLL U LITE PHAT from Lacie's phate end ......haaaaa!!!
Got to bark it . My gob was smackered at some of the antiques antics. Right little daredevils. But some of 'em. JUST DEVILS!!!! Keeps your peepers peeled everybloggie. Cast your vote in the sidebar for your favourite wheelie family STILL PHOTO. The one with the owners name directly ABOVE. Singles Parading on Saturday. Some wheelie suprising entries. Be Square. See you there. Where's my wheelie family? Gotta crack that whip one more time . . .