Sssshhhhh, don't give me away. I'm not meant to be here at all. Oh no. I'm on a "stay, stay Eric, I - SAID - STAY " in the Naughty Corner. Cos I've been Naughty with a capital N. Got one over on Wally Wednesday, didn't I. He deserved it. Always evading me, just out of reach.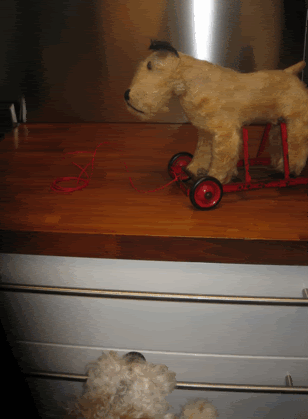 I'd overheard my mini-me's talking bout Wally plotting to write on my squaredogsblog. Huh. As if. What a bloggy cheek.
Now don't be fooled into thinking "Ah, poor Wally Wednesday". It's hard to believe I know, but beneath that soft mohair exterior he's got a head and body of steel. He even duped the pawrents into making films of him showing off his stupid, stiff leggedy, wheelie walk. Duh,I mean you either walk or you wheel don't you. He deserved what's-a-coming. A stuffie with his own locomotion is so fair play don'tcha think?
Narrow escape Wally. Wheelie made me mad. Silly stuffie, always needing his push start, carried on squeek - eek -eeking on his old bald tires.
Doggedness and diligence was needed in this dog eat dog situation. So when both pawrents were coo-coo-cooing over Wally's cuteness, totally ignoring ME as they filmed him for MY blog I cunningly took my opportunity. Take
a look-see, though if you are a tad squeamish better look away.
Tee,hee! Reminds me of the film "Jaws". Totally worth being in the Naughty Corner for.
You'll be very relieved to hear Wally Wednesday is taking a rain check on publishing his incredibly boring and dumb old blog entitled "Wally Wednesday's Wheelie Walkabout of Great Britain" Yes, that's what he mumbled to me through his sore old mouth. Ha,ho,tee,hee!