When I got home from my walk the other day Mr. Postie had left a parcel for me on my doorstep. Hmmm. Wonder if he called twice? Not my birthday or anything. Guess who from? You never will. My buddy Jackson.Don't tell - I'm a bit in awe of Jackson. I hero worships him from afar.Well not that far,he's only 60 miles down the road as the birdies fly. He's a Wise Wire. Know things. Been there. Done that. Got the t shirt. Badge. And probably a cap too. Can destroy stuffies in seconds. President of his own exclusive club. Me. I'm a new dog on the blog. Quirky. Friends with dogs, cats and rabbits, a hammie too. Not done much. Not know much. So Wow! A parcel from my hero! That's Wheelie wicked!!!
I loved these white crispies in the box.
Mom went white too when she saw I was trying to eat them. Couldn't though. Got stuck all over my gnashers. Tee hee!! She had to pull them all off one by one for me. Muttering something about dog knows how could she would explain that one to the vet if I had been stupid enough to swallow them. A puzzle for me to ponder. Find it difficult to know what's eat- a -ble and what's not. Do you? My Square Head tells me best to give everything a go. Cos you never know. Bet Jackson would have know it was packing material. Silly me. Course he did. He packed the box.
Look see what I got. One bag of cookies . . .two bags of cookies . . .
Jackson arranged for the Cookie Monster to visit me!!!!
Took them to my special hiding place. My blanket on the sofa. Aw. Not hidey at all. Mom caught me. Then a suprising thing happened. She opened the bag and fed me cookies! Before breakfast! Unreal! Yet another puzzle to ponder. Games and treats before breakfast???? Wonder why? But then Mom's a bit of a cookie herself.
Want to PAWSONALLY show you the way the cookies crumble.
This was a pinwheel cookie. Sort of lovely and livery in a whirly way. MMMmm. SCRUMPTIOUS!
This was a crispy crunchy cheesey chap. With a bit missing on his back.
Yum. TRULY SCRUMPTIOUS!
Crickey! What a 'mazing co-incedence! A cookie bone with the SAME NAME as me!!!! Peanut, hand dipped carob and pawsonally iced for me. Drooling delicious. A very special SCRUMPTIOUSNESS!
Wanted to share them with you but don't know how. Plus Mom has put the rest of them in the freezer. Instead I made a message. For you. From me. And look out for the Cookie Monster. You never know when one might appear.
Jackson. Thank you millions my special buddy.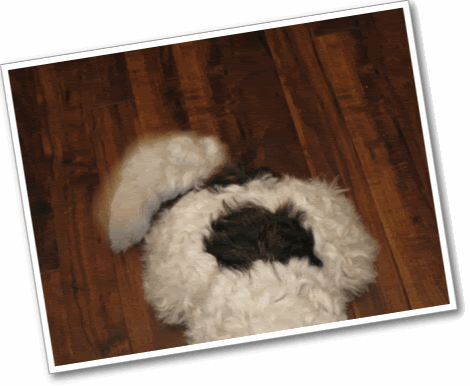 I'm dog-a-blogging- happy. Wigging my wag at you. One thing though. Do you think I might be able to join your Substantial Wires Club now?
Cookies from Dogs Dogs Bakery